🌎 Web \ 📡 Tech \ 🔮 Future - WTF#012
Snap's lens builder, Wash Your Lyrics kid, coronavirus charts and links
Hi there,
2020, the year we all became epidemiologists. Who'd have thought? In 2019 (such simple times) we couldn't even pronounce the word.
The coronavirus has dominated every industry's media and conversations so there's not a lot else to talk about this week. I've included some links to high-quality information on the pandemic below the media/tech stuff. If we need anything now it's reliable information and intelligent discourse.
These emails will be a bit lighter over the coming weeks as I spend my days parenting and homemaking. I'm cancelling all non-essential travel and meetings to try and keep everyone here safe.
More than ever, we need a drink. A stiff one. So if there's nothing at all to write about over the coming weeks you can at least bank on an easy-to-make but delicious cocktail at the end of this email.
Stay safe and well
Will
🔗 Links of Interest
Snapchat has just launched its 'Lens Web Builder', allowing any business to create their own AR lenses for the platform. Facebook launched Spark AR for Instagram last year, but that's nowhere near as easy to use. This offering from Snap brings the barrier further down and can be found in its Ads Manager tool - link
Scotland's new £20 banknote is a gorgeously illustrated scene of red squirrels whose fur glows under UV light - link
Tesla has made its one-millionth car - link
TikTok is expanding its test allowing external URLs in clips - link
How to find your most creative time of day, and make it count - link
WhatsApp now has dark mode - link
That Wash Your Lyrics site was created by a 17-year-old kid in Northamptonshire, England. I love how this is more creative and better executed than any ad agency would have managed with that brief - link
Can you use that image in social media? A flowchart - link
TikTok is turning our kids into pro photographers - link
Beyond Meat have a chewing machine to ensure its products masticate like real animal flesh - link
Restaurants and hotels are getting inundated with cancellations - link
New BBC documentary looks at the environmental impact of our internet use. It's much greater than you think - link
---
How coronavirus hijacks your cells. Well explained and illustrated - link
The Atlantic article that's gone viral - Cancel Everything - is a call to arms on how we need to get aggressive with social distancing measures early on - link
Sam Harris talks to Nicholas Christakis (see his fascinating TED talk on social networks) about the coronavirus pandemic. Great convo - link
Some people wouldn't dream of booking a cruise right now. Others see an unmissable deal - link
After UK prime minister Boris Johnson's address to the nation stating the UK's approach, #herdimmunity trended on Twitter. Opinions are very divided on this strategy, whereby we allow the virus to slowly pass through the population and take the mortalities 'on the chin', waiting until the peak to deploy more drastic measures.
London School of Hygiene and Tropical Medicine's prelim analysis on how the R0 (reproduction number) and doubling time of the virus varies around the world - link
Tool by the above institution simulates the number and growth of cases if you only know how many people have died from COVID-19 - link
Coronavirus has exposed some pretty fundamental flaws in the US health system - link
Graphs and charts!
💻 What's On My Desk This Week
🖥 Been trying to create an online course, which will be the first of many, though progress has now stalled. Going to publish three courses on Teachable first and then perhaps Skillshare, Udemy and LinkedIn.
👦 My little boy… well, he's not so much on my desk as building a den under it. He doesn't have a clue what's going on but loves being at home with his mum and dad.
What to Drink This Weekend
This week's drink is all about those store cupboard supplies you panic-bought. Comprised of gin, vodka and lemonade all turned blue with curaçao this is a boozy tipple whose ingredients will never go off.
Aqua Velva was a popular, inexpensive aftershave during the 20th century. It was reportedly consumed by sailors during the Second World War due to its alcohol content and relative drinkability – as cheap grooming products go.
It's not known when or where someone decided to create a cocktail in its name, but they concocted an appropriately lowbrow drink which, today, is mainly found atop sticky bars and sometimes garnished with a glowstick.
The drink appears in our book, featuring in a key scene in the 2007 movie Zodiac.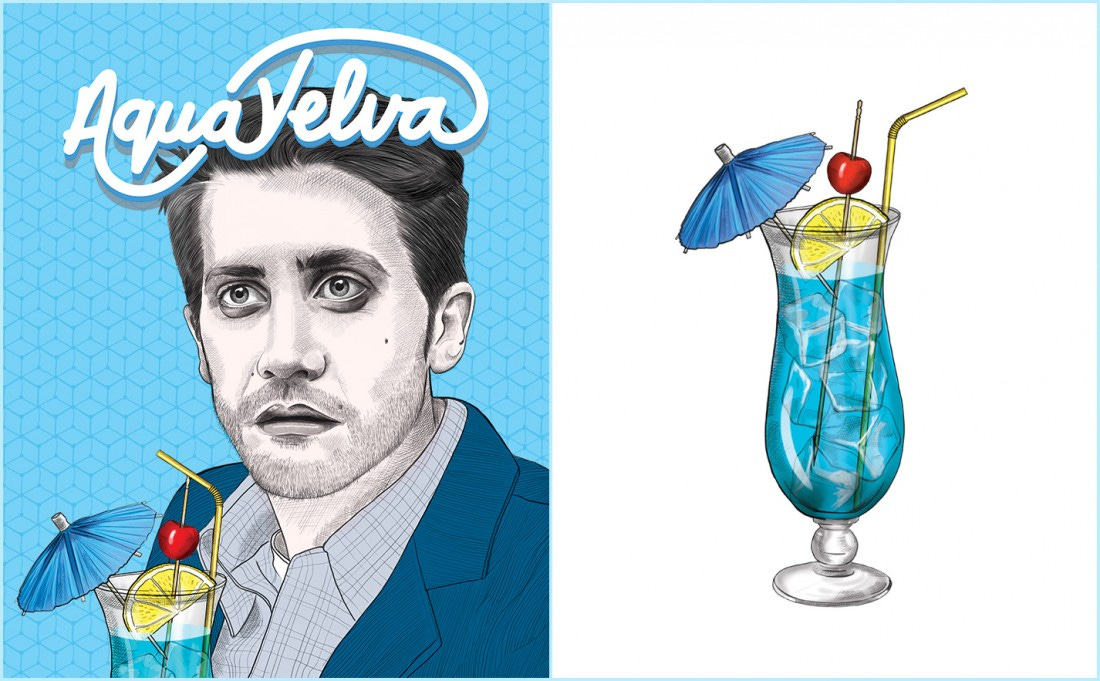 Aqua Velva
🍸 3⁄4 oz / 19 ml vodka
⚓️ 3⁄4 oz / 19 ml gin
🍊 1⁄2 oz / 12.5 ml blue curaçao
🍋 Lemon-limeade, such as 7UP or Sprite
Shake the first three ingredients with ice and pour into a Hurricane glass filled with ice. Top up with the lemon-limeade. Garnish with a lemon slice and a cherry skewered together on a cocktail stick, along with a cocktail umbrella and straw.
Stay safe, stay sober!
Will
🌎 Website | 🐦 Twitter | 🌇 Instagram | 📸 Unsplash | 👨‍💻 LinkedIn