🌎 Web \ 📡 Tech \ 🔮 Future - WTF#004
Insight into what's happening in technology, media and my world this week
Phew! What a busy start to 2020. Hope it's been a good one for you, full of fresh and exciting plans.
Perhaps it's imagined, because we're turning this big corner into the 2020s, but I do feel the digital world, and in particular our relationship with technology, is turning a corner too.
Those of us who work with social media and the internet have been aware of some sort of backlash for some time. In fact we've been at the heart of it. Digital detoxes, growing mistrust in the platforms, concerns about effects on our mental health and about our kids.
But now these concerns about how, during the 2010s, we were weened onto addictive tech and then aggressively monetised by the platforms have gone mainstream.
I saw a few unconnected people sharing this album of artwork on Facebook over the last year, and none of them work in tech or media. It's become one of our shared grievances, but for now it's one that we'll live with.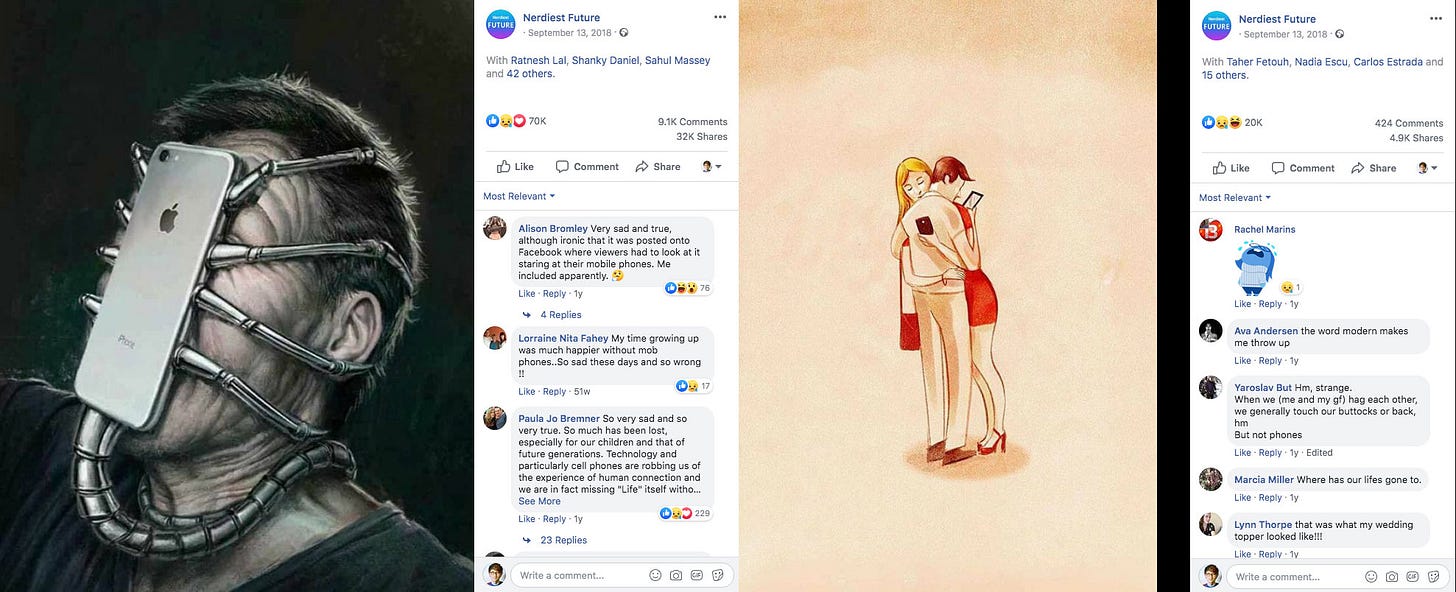 Anyway, it'll be interesting to see how this decade pans out. Just as with the last one no-one knows or can predict, so I won't try. But with huge advances in computing (quantum) and potential step changes in artificial intelligence just round the corner it will certainly be interesting.
The movie Her remains the best cinematic vision of our likely future relationship with tech, I think.
🎬 🚀 Hollywood Wants to Get in on Short Video
Looking to bring cinema-quality content to the screen you take everywhere
OK, so I know it's easy to be a naysayer, to sneer at the rich and powerful wasting their money… But this year's CES saw the launch of Quibi, a platform for filmmakers to create short (4 to 10 mins), smartphone-friendly content at cinema quality.
Guillermo del Toro, Reese Witherspoon, Peter Farrelly and other movie luminaries take part in the launch ad which shows eerily dystopian sequences of endless consumers alone, staring into their phones on trains, in parks, in cafés, even in an infinity pool. Places in which we could all benefit from being more present.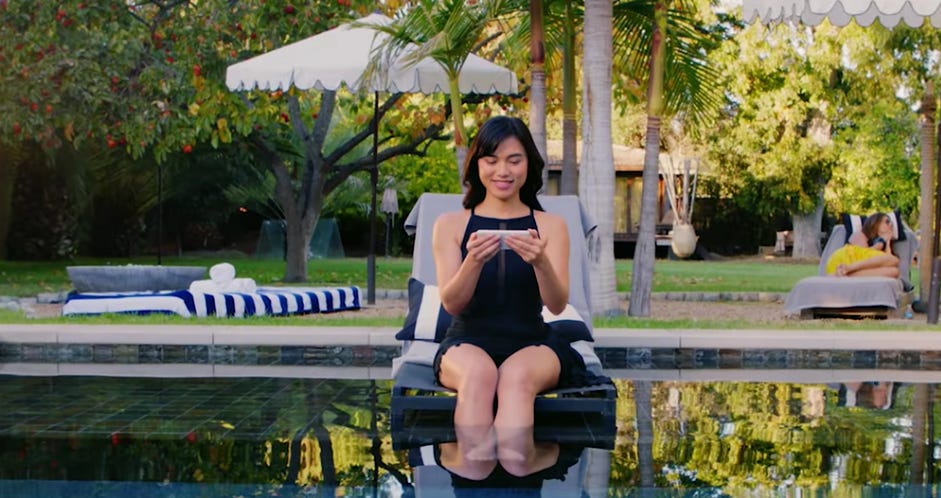 Anyway, aside from the hell-world they depict where we're never allowed to stop watching content, this just feels like the grown-ups have come to play at the kids' playground of smartphone media. They've seen Instagram Stories, Snapchat, TikTok and thought "this needs real filmmakers to wade in and deliver quality storytelling". They are of course trying to claim back some of the attention that social media stole from traditional channels, and then monetise it. But who really wants that?
This is a classic case of creating something that the creators want, not something actual users want (see this critique of Google Stadia as featured in WTF#001).
The launch reminded me of Tidal, the lossless (very high quality) music streaming service which announced its artist-first ethos at a live-streamed event fronted by some of the world's top music acts (Jay-Z, Madonna, Coldplay et al) in 2015. It was famously toe curling to watch. Like spoilt children, people with vast wealth were asking us to pay them properly for once.
And yet, with an unwavering focus on sound quality and a broad catalogue (bigger than Spotify's in fact) Tidal has carved out a solid reason to exist. Maybe not the reason painfully hammered home in that video, but a reason that adds value to a loyal, well-served audience of audiophiles.
Quibi on the other hand doesn't have such a clear USP. There's more content on Netflix and Amazon alone than you'd ever need, at the highest quality. Plus national broadcasters and torrented content (BBC iPlayer, GoT torrents et al). That's before you even get to YouTube where anyone with enough time and a smartphone can publish professional documentaries, vlogs and movies.
It's not even assumed that the new raft of big bucks streaming players like Apple, NBCUniversal, Disney et al will find enough daylight to survive, between the streaming incumbents. Who on earth needs Quibi, apart from Quibi?
🎭 🎙 The State of Audio Drama in 2020
It's a great time to be on air
If like me you sometimes daydream about producing an audio drama someday, you should read this overview of how the podcast boom has helped fictional audio productions flourish. Interesting to get a look at what the best productions have been and what inspires them.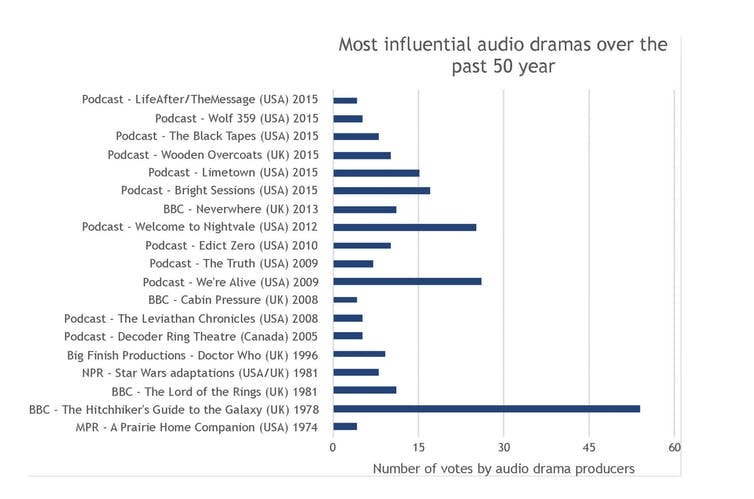 Hitchhikers Guide to the Galaxy from 1978 remains by far the most influential. I listened to it a couple of years ago and agree it's mandatory listening for anyone with a weird sense of humour or aspirations in the podcasting space. It's on Audible, here.
📸 🎩 Instagram Filters Are Proving a Route to Success
Create your own, and who knows where it could end up?
Instagram is proving to have a good record on introducing new features that genuinely empower its community to grow through self-expression (IGTV aside).
Last summer, the platform gave users the ability to create and upload their own AR filters. But only recently has the media industry started to take notice, as some users are going impressively viral through their homemade filters.
In this piece on Input Mag, several filter creators are highlighted. Their lo-fi, fun filters (Which Disney Are You? and the like) have proved to be a viable tactic for growing significant audiences.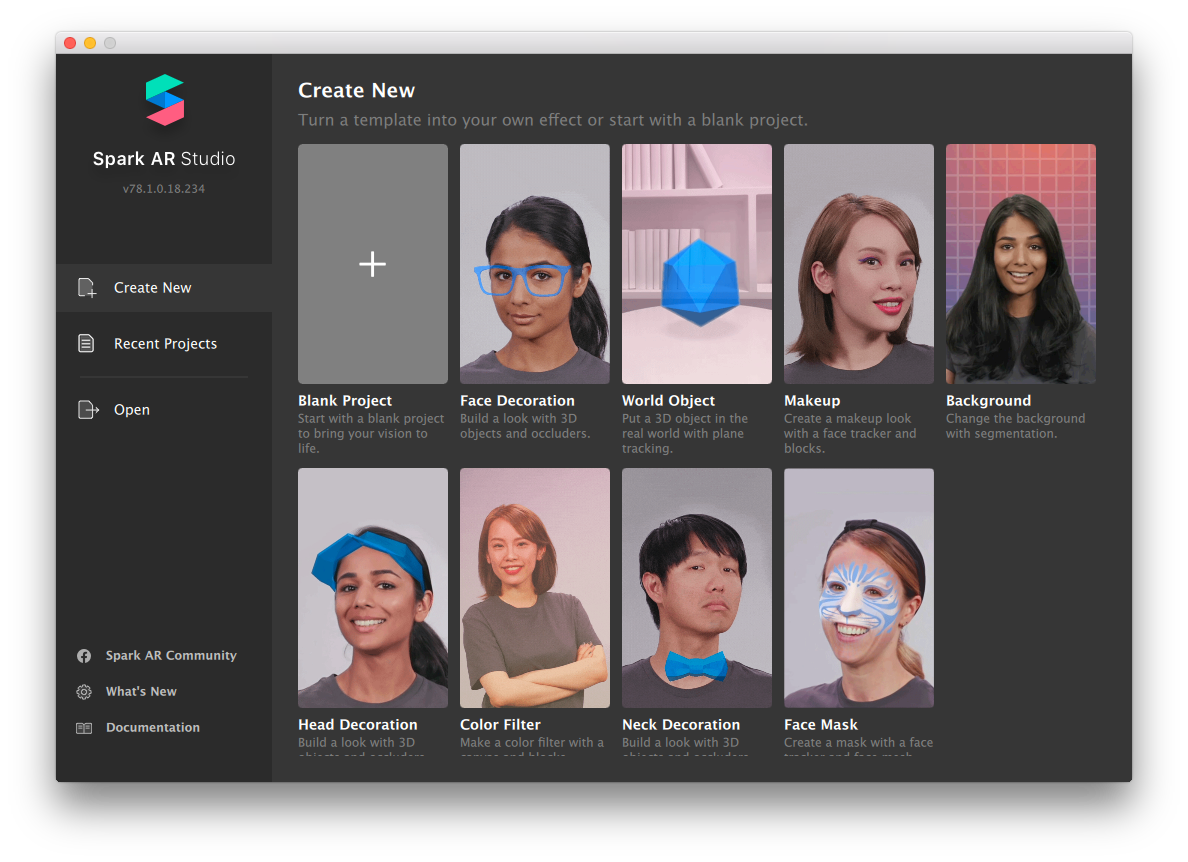 Getting started is as simple as downloading Facebook's free Spark AR Studio software. There are a number of templates to get you going and you can see your creation take shape in a live preview, as you create it. Even if you're not technical or a 3D artist I'd urge you to at least have a play with it. Brief someone, if not yourself, to get creative with it for your business or clients. The creative possibilities are endless, and they are proving a hit with users.
📣 🎙 Ads Throughout Podcasts Are Coming
If this ends my fave podcasters reading out mattress ads I'm 100% on board
Spotify are introducing inserted ads for podcasts, as announced at CES. This will likely become the norm across platforms, as it has become on YouTube, where it benefits everyone - more revenue for creators (long videos are the new thing now, due to that) and also good for ads, as viewers don't expect them and so are less ready to skip when they arise.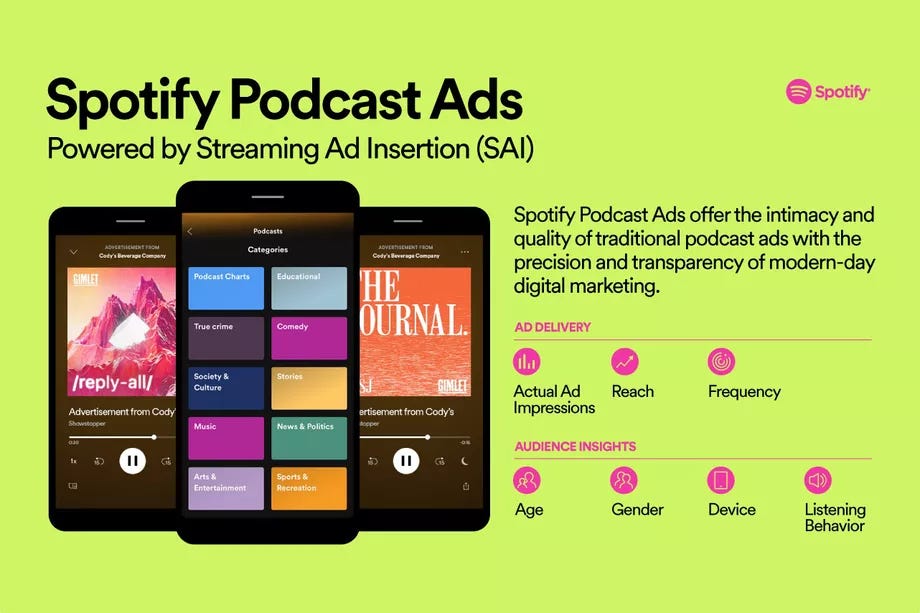 In the podcasting arena, this is also great for hosts too. No more cringeworthy sponsor messages to read out, and I'd imagine there will be more sponsorship opportunities too, as each platform will essentially become an ad network (and may even join bigger ones).
🤑 📹 YouTuber Reveals Full 2019 Earnings
Ad revenue + sponsorship deals make Roberto a happy boy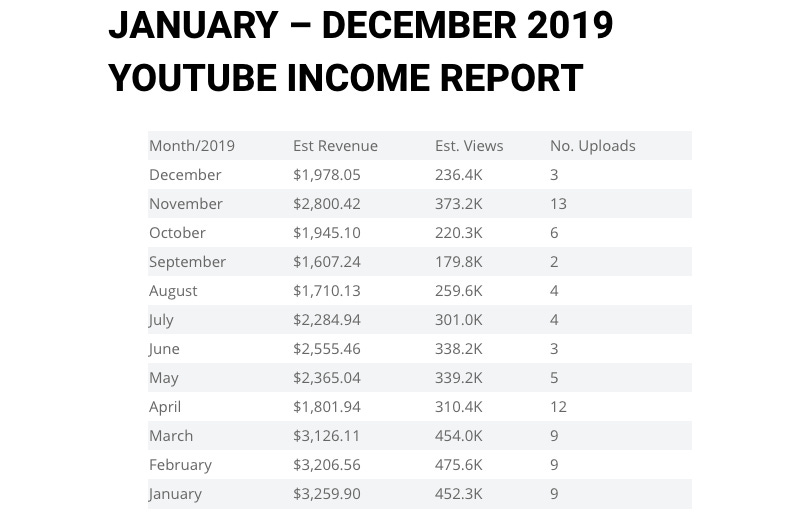 YouTuber Roberto Blake is very transparent about his numbers. He released his income report for 2019 and it makes for fascinating reading, given that his videos garnered just over 4 million views last year.
YouTube Ads Income: $31,118
Sponsorships: $35,000
Merchandise Sales $130
Total: $66,248
That's less than 80 cents CPM, which is a lot less than I expected (and considerably less than the next lot of YouTube earners)
… and Others Reveal How Different Earnings Can Be
It's not all about the view counts
Business Insider spoke to a group of YouTubers with varying audience sizes and it's clear that income is highly variable. It seems to depend largely on who the audience for those videos is, and that varies between creator and even between video.
Videos that are watched by affluent audiences in affluent countries generate a lot more revenue per view. A piece that goes viral will inevitably reach a broader global audience, bringing the CPM (revenue per 1,000 views) down.
For an average video that has received between 1m and 1.5m views the revenue for each creator is as follows:
Shelby Church (1.4 million subscribers) — between $2,000 and $5,000
Austen Alexander (166,000 subscribers) — $6,000
Marina Mogilko (1.08 million subscribers) — $10,000
Kevin David (844,000 subscribers) — $40,000
So basically, to make the most money, create content about making money!
A Cure for Writer's Block?
There are thousands of writing apps for our devices, many with anti-distraction modes and pleasingly oldy-worldy interfaces. And yet, we struggle more and more to get our blogs, scripts, books and essays out of our heads and onto the page.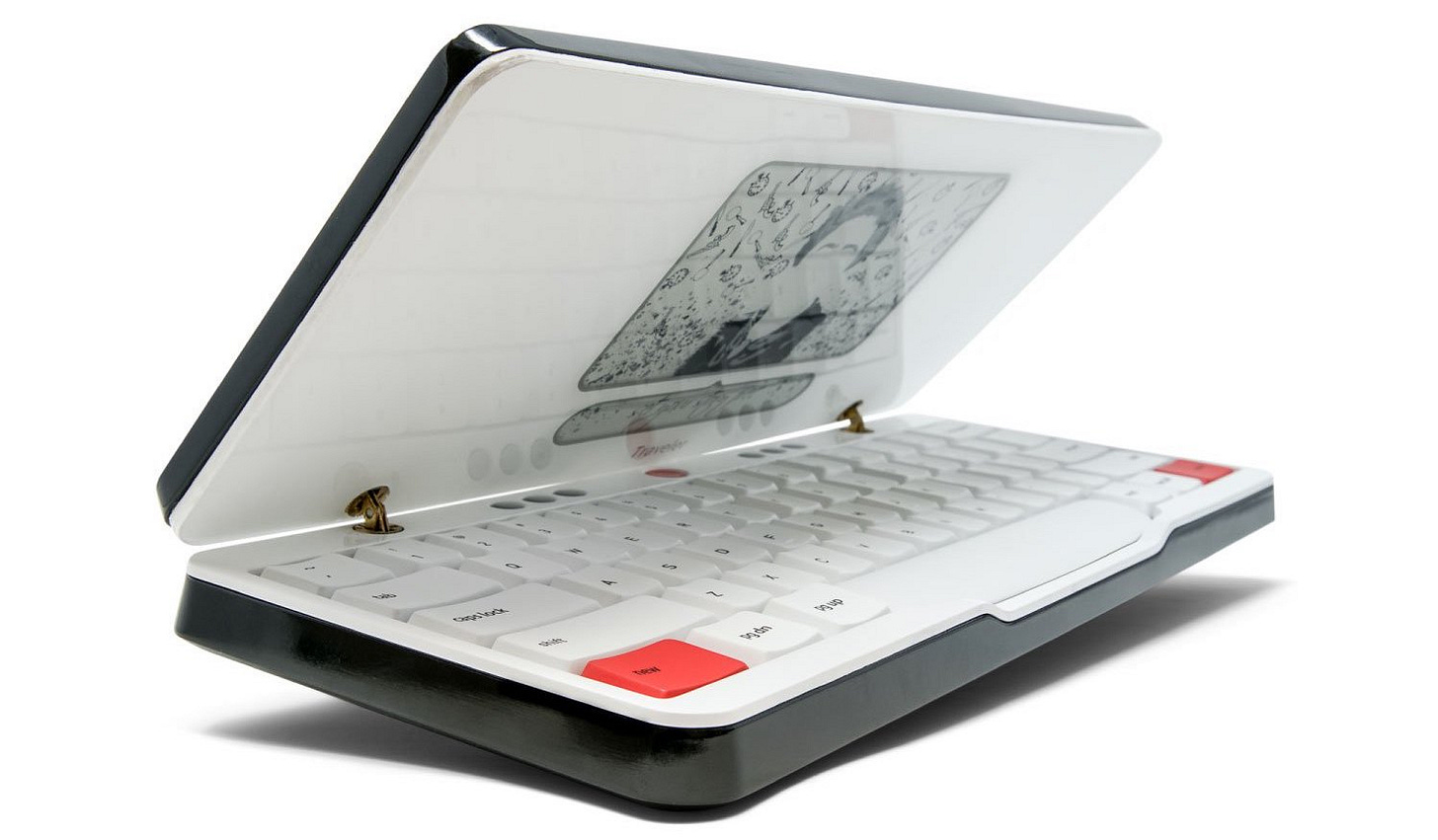 The Freewrite Traveler has raised around $750k on Indiegogo and starts shipping in March 2020 (🤞). With an e-ink screen (a la Kindle) and the single feature of being a writing machine, it also syncs with your cloud of choice (Dropbox, Google etc). As a tall guy who can never quite make his laptop quite fit on his knee during flights and train journeys this is tentatively on my to-buy list.
🔗 Links of Interest
TikTok owners Bytedance have released a report on 2019 usage of the Chinese version Douyin - link
Are you a knowledge worker? Start creating 'reusable components', a library of your best work, skills and knowledge - link
Apple AirPods alone make as much money as Spotify, Twitter, Snap, and Shopify combined - link
Russia tested its own, closed off, internet at Christmas - link
Airbnb users pay more to stay with attractive hosts (and other interesting factors) - link
There are an increasing number of PR companies who will spread disinformation and even troll aggressively on your behalf. BuzzFeed News investigates - link
6 marketing trends to keep an eye on in 2020, by top ad execs - link
A disgraced YouTuber went quiet in 2017, and has just re-emerged, claiming to be someone else completely. A fascinating story (of a person who may not be well) - link
💻 What's On My Desk This Week
🎓 Going on tour! I'm running my 3-day series of day courses in digital marketing across the UK, Ireland and Europe. They are Content Marketing, Social Media Marketing and Copywriting - all standalone day courses, but work great in any combo too. I'm just starting to add dates as we speak here. If you know any great venues for running workshops I'd hugely appreciate any recommendations 👍
👩‍🍳 Work in the restaurant business? Myself and The Caterer magazine are hosting a Social Media Summit on 26th March at Soho Hotel, London. It's a half-day workshop with the most important strategies and tactics for success in social crammed into an action-packed afternoon. Tickets available here.
What to Drink This Weekend
I don't personally bother with Dry January (see this Daily Mash satire on it) but if you're seeking something a little less boozy I've got you covered.
This drink is a great one for sharing with friends, kids or just enjoying with a weeknight dinner (especially a Mexican one!). We had it last night to accompany my legendary lentil hotpot so I can confirm it goes with anything!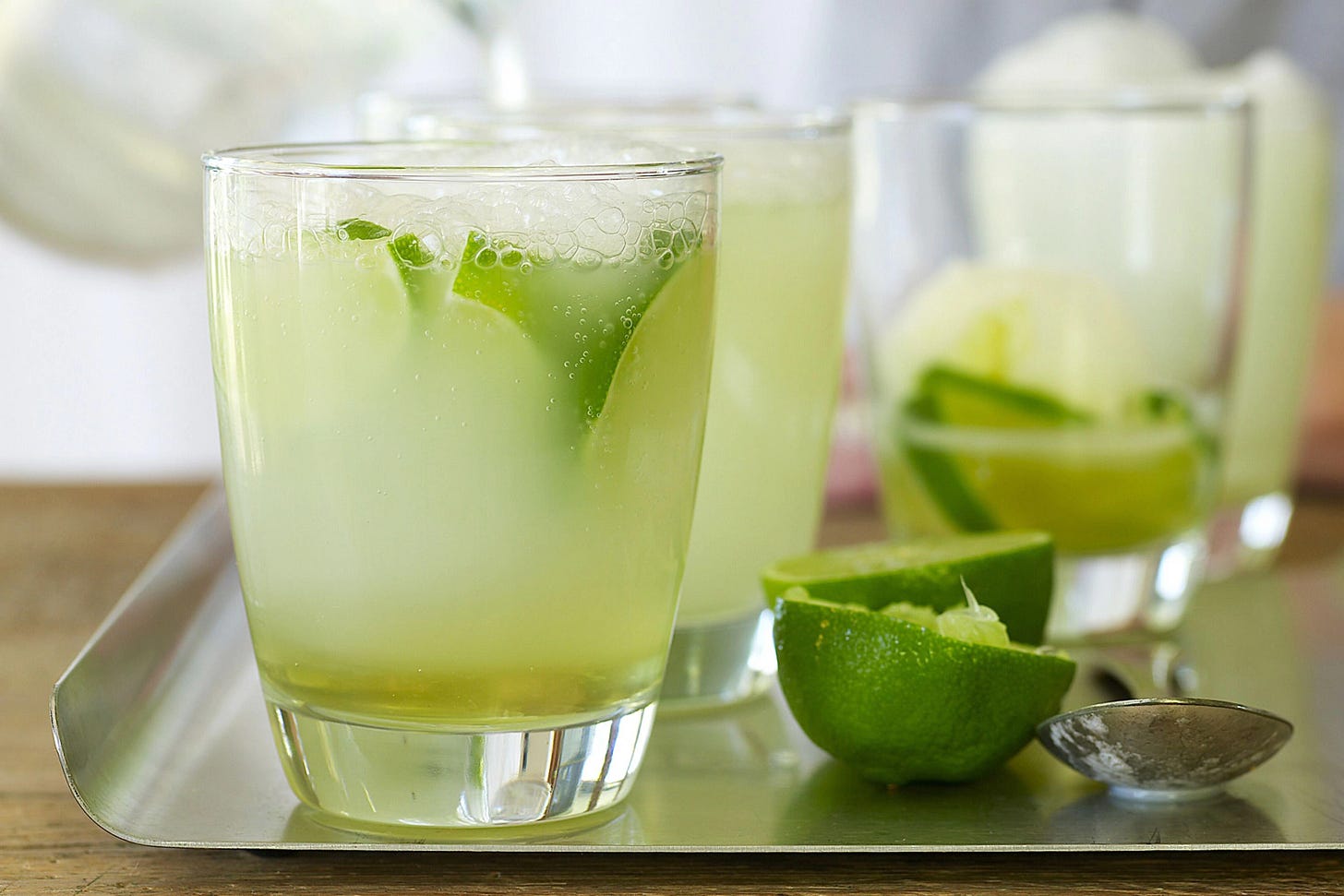 Lime Fizz
🍋 1/2 oz (13ml) freshly squeezed lime juice (half a lime)
🌵 1/3 oz (8ml) light agave nectar
🍋 3 lime wedges
🥤 soda water
Squeeze your limes (use a reamer or juicer to get every last drop out) and add the juice to a tumbler. Add in the agave nectar and stir vigorously. Add lots of ice and top with soda water. Squeeze each wedge over the glass before plunging into the drink. Sweeten further to taste (some people prefer it much sweeter than this). Bear in mind that agave nectar tends to sink over time so serve with a cocktail stirrer.
Enjoy, and have a great weekend!
Will