🌎 Web \ 📡 Tech \ 🔮 Future - WTF#003
Interesting online finds this week
Hi there,
After a busy week travelling, shopping and Christmas-focussed logistics this is a bit late! Hope you're enjoying the slow-down as we head into the break, made all the sweeter because everyone who would normally contact you is also away.
I'm taking 2 weeks off absolutely everything so the next edition will hit your inbox on Friday 10th January. It'll be the 20s, finally a decade we all know how to pronounce again 🎉
👺 🖕 BBC's Chief Anchor Airs Frustration at Online Haters
'Bias Broadcasting Corporation' crowd told where to stuff it
Huw Edwards, one of Britain's most respected news men, penned an emphatic rebuttal to the trolls, haters and conspiracy theorists last week. The LinkedIn post pulled no punches as he lambasted those whose only objectives are to spread doubt, mistrust and ultimately chaos online.
To those who engage in spreading misinformation and conspiracies, this activity must feel like a rebellion of the righteous against a broken institution. But eroding trust in a media organisation which has gone farther than perhaps any other in the world to maintain and demonstrate impartiality will only ever serve bad actors.
🌁 📉 Has Silicon Valley Failed Us?
A critical review of the century's achievements so far
A piece in The Atlantic ruffled a few feathers in tech this week. Derek Thompson writes that this century has so far seen the greatest minds in America sink their talents into building products that purport to have changed the world, but in fact merely provide minor consumer conveniences. We can get a taxi when we like, message anyone anywhere. But economic growth has slowed, inequality has widened, infrastructure becomes increasingly inadequate.
"The physical environment feels depressingly finished. The bulk of innovation has been shunted into the invisible realm of bytes and code."
He's got a point - we're on the brink of an extinction event and the smartest people in America are working on making the Instagram feed load a bit faster.
🖥 🖨 A Tech 'Year In Review' Worth Reading
Stratechery strikes again
Ben Thompson writes one of the most respected email newsletters in tech - Stratechery. It's an in-depth analysis of what's going on in the industry, sent several times a week. His authoritative missive is considered required reading for anyone in Silicon Valley, and whilst it's a paid newsletter his year in review is free to read here. Worth putting time aside for if you're keen to better understand the tech business today.
🤣 ☄️ The Decade's Finest Memes
What went viral in the 2010s
I found it both a handy refresher, and a good dose of hilarity, to flick through the 100 memes that defined the closing decade. And by 'memes' we do mean funny videos that went viral, but we also mean 'meme' in the purest sense (as coined by Richard Dawkins). I'm talking those heavily re-used images, GIFs and slogans (most recent example being "OK, Boomer") shared with different captions in different contexts to wittily communicate a point or a joke. They're like the slang of the internet, but exist in a way that wouldn't have been possible before the online age.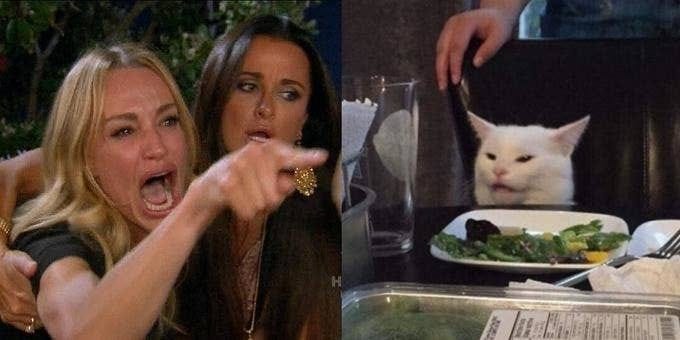 If I had to pick a fave meme…
🌟 🎬 Welcome to New Hollywood
The movie industry has now well and truly changed. Every streaming service is its own studio, distributor and cinema. This Hackernoon piece (written by a Netflix investor) heralds this new age of film-making made possible by digital technology. Just four years into this new era, Netflix just secured more Golden Globe nominations than any other film company (and this will likely be the case at the Oscars too).
Only problem is, have you watched a Netflix film recently? Marriage Story and The Irishman aside much of it is dross. Ryan Reynolds' latest flick 6 Underground is the perfectly mediocre example. It's little more than a series of less-than-subtle product placements clumsily strung together with cheap CGI stunts and Reynolds' signature sneer barely rescuing the gags. This is movie-making in the YouTube influencer age, like one big sponsored post (#ad #spon). I pray this isn't the future of film.
🎥 🤠 TikTok - the New Wild West of Influencer Marketing
Talking about sponsored posts, as you know TikTok is exploding. And because of how the platform works it is catapulting random teenagers from bedroom obscurity to TikTok-famous in the time it takes to film a selfie dance video. And you guessed it, their first move is to monetise! After all, the most aspired-to profession amongst teens is 'YouTube influencer'. So it scans that when these newly-famous users get the big numbers they're flattered and downright stoked to be offered free stuff and money from any brand who'll send it.
Predictably enough, rules about disclosure have gone out of the window and it's all a Wild West again. Which personally I'm fine with, given how irrelevant and ineffective these out-of-date guidelines are anyway.
💉 🌎 Why Does Pseudoscience Spread Online?
It's a mad, mad world
Angela Saini investigates the lethal spread of alternative facts and discovers that the very architecture of the web amplifies dangerous pseudoscience online.
How do groups, from white supremacists to anti-vaxxers, exploit sketchy science and social media to spread ideas from health misinformation to eugenics theories? Worth a listen.
🤖 ☎️ Robocalling Driving You Mad?
A satisfying tale of spammer sleuthing
I've been receiving lots of robocalls recently. Some have really gone to town on the recording played when you answer. The last one I received, just yesterday, featured a friendly regional English lady with all the right pauses and timing to seem sort of real-ish. Others are too lazy to even record a human voice, using a crappy speech generator (here's looking at you Robo-fake-HMRC).
So I came across this Wired piece which follows the story of TripAdvisor's fraud investigator hunting down the robocallers purporting to be the travel review site, offering iffy Mexican timeshares.
🏆 🛍 What Is a Truly 'Modern Brand'?
Times are a changin', and so are consumer expectations
We know that brands like Peloton and Glossier are different beasts than the companies we grew up with. They're mostly DTC (direct to consumer) and rely hugely on digital and social channels. But there's something specific about their brand, and the relationship they foster with their customers that's changing the game entirely. Summed up nicely in this short piece on Medium.
🐮 🐸 Rejoice! The Far Side Is Now Online!
You or your parents almost certainly owned ≥1 of Larson's books in the 90s
The witty, irreverent comic drawings of Gary Larson were a staple in so many households in the 1990s. The books were gifted to my Dad most Christmases, and as kids we loved leafing through these chucklesome compendiums of visual humour. It was a refreshingly sideways look at human life, often as viewed by these droll animals.
Judging from Larson's letter on his website, it took him a while to get his head round the internet, and publishing hard work for free. Thankfully he's putting a dose of content up from the archives, daily at thefarside.com
👹 👎🏻 The Internet in 2020
Can't we agree on anything anymore?
Where we're at as the new decade dawns was summed up for me as I browsed Reddit's History Porn subreddit (nothing NSFW, it's just fascinating and unusual photos from the past!).
I clicked on a famous photograph secretly taken inside Auschwitz, to find that whenever someone posts about the Holocaust on the site, a Reddit bot automatically appends the post with a 1,500-word pre-emptive rebuttal to Holocaust deniers. I think my faith in humanity evaporated in that instant. That this needs to exist 🤦‍♂️
This might just sum up the closing decade for me. We thought tech would bring so much. Level the playing field globally. Put everything out in the sunlight, and bring truth to power. It's as if the exact opposite has happened. Winner-takes-all economies. Trust in everything eroded. Your truth is different to my truth, and so on. Let's drink to optimism, hope and some sort of unity as the new decade dawns.
🎅 🎁 Quick Gift Guide
Get these ordered before it's too late!
Five things I've bought, been bought or want that would make great last-minute gifts for someone (who's a bit like me!)
What To Drink This Weekend
This drink could only be more festive if garnished with left-over turkey, and I wouldn't recommend that. It fuses two bottles your home will probably have lying around at Christmas – dark rum (for the pudding sauce) and a good port – along with Angostura bitters, sugar and maraschino cherries. Conceived by yours truly, it's a warming yuletide take on the classic Old Fashioned.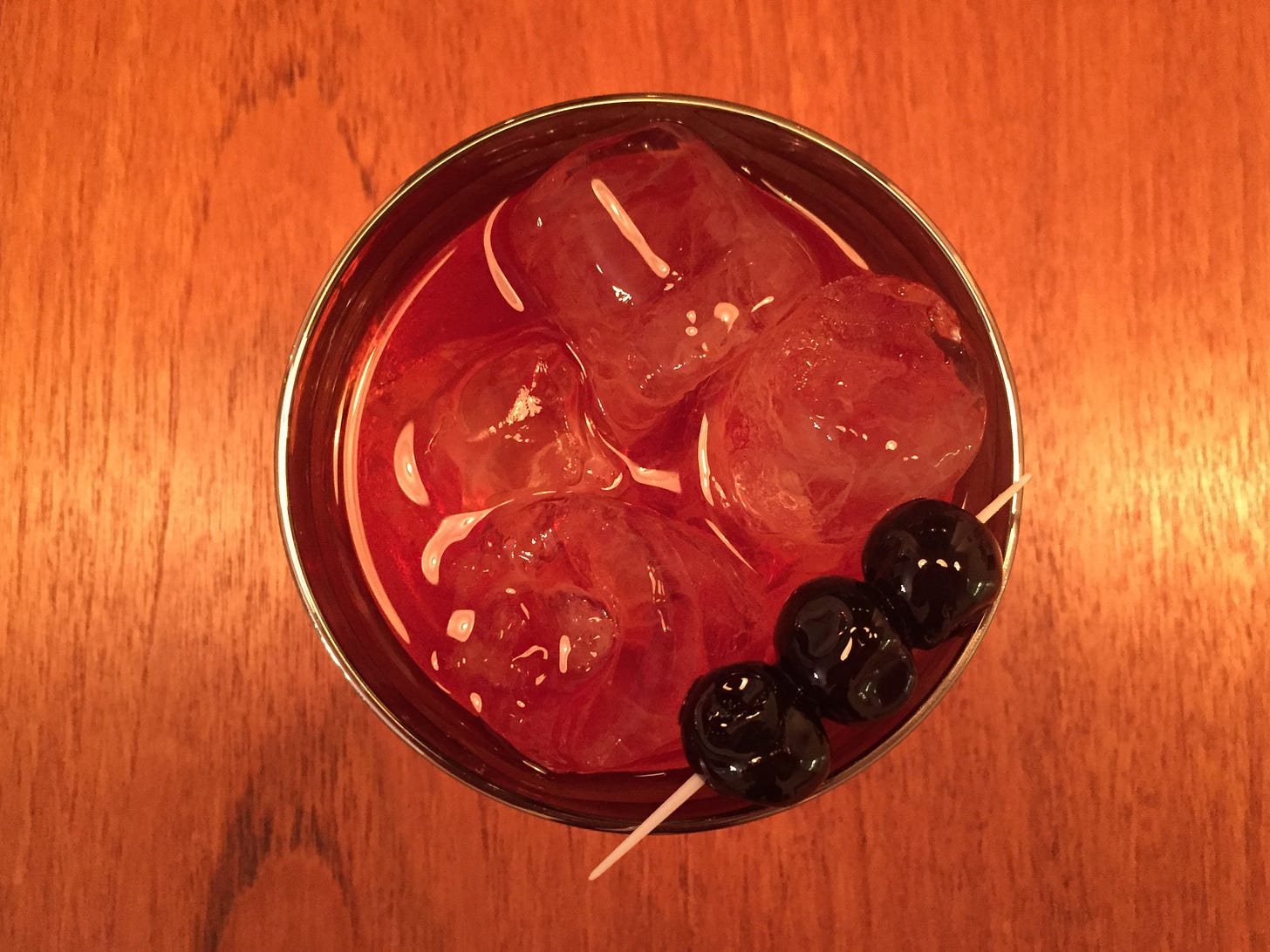 Festive Old Fashioned
🥃 2 oz (50ml) dark rum
🍷 3/4 oz (18ml) tawny port
🌿 2 dashes Angostura Bitters
🍭 1/3 oz (8ml) sugar syrup
🍒 Maraschino cherries
Stir the liquid ingredients with ice in a mixing glass if you have one, if not stir in a tumbler. Old Fashioneds are known for their need to be stirred patiently, to allow for dilution and cooling as the ice melts. Fill your glass (a rocks glass or tumbler is perfect) with ice and strain the mixture in. Top up with more ice if possible. Spear 3 Maraschino cherries with a cocktail stick and rest on the rim. Some of the syrup might slip into your drink, and that's just grand.
Wishing you and your family a peaceful, merry Christmas 🎄
Will