🌎 Web \ 📡 Tech \ 🔮 Future - WTF#002
What's happening in technology, media and my world this week
Hi there, here's what caught my attention this week. I've also added a feed of podcast recommendations which I'll update every week.
Just put the feed URL below into your app of choice (I use Overcast on iPhone, it's the best) and you'll get new podcasts to listen to as I find them.
https://www.listennotes.com/listen/wills-recommended-listens-7KpWYE_A6nF/rss/
Happy listening :)
💩📱What Happens When You Create the Worst Mobile Apps Imaginable (Spoiler: You Make Money)
It's an hour-long conference talk but just watching the first 10 minutes is well worth it, here. It's a fascinating story of two disillusioned app developers who couldn't get their mobile games off the ground, and so decided to try something crazy for a laugh. They automated a process which flooded the Google Play Store with endless incarnations of a 3D slot machine game. Each version was just reskinned with one of 1,500 different (and hilariously random) themes. But they actually made some good money out of it.
It's a great lesson in how scale is king, not quality - if all you care about is bottom line. I love the bit about how the in-game ads performed insanely well, because the games were so diabolical people clicked the ads just to escape.
🎥 ♻️ How to Make 64 Pieces of Content in a Day
Love or hate him and his bombastic marketing advice Gary Vaynerchuck, annoyingly, makes some good points. His latest deck How to Make 64 Pieces of Content in a Day is worth a flick. In short, the point he hammers home is that we should be repurposing our content. A lot more. And he's right, a video can be the basis of a blog post, a podcast, a tweet and on and on. I drive this point home in my workshops too, because most marketers don't derive anywhere near enough value from their good ideas. After all, it's those sticky ideas that are the real currency of our industry.
🎤 🕺 Still Struggling to Understand TikTok?
This should help you out. The Chinese video sharing app (or government-backed data harvesting tool, depending on who you ask) has published its retrospective of the most popular videos on its platform in 2019. Organised by categories such as Viral, Beauty, Pets etc it serves a great overview of what drives engagement on the platform.
Essentially, it's exactly what you'd expect to happen when every kid gets a pro-quality camera in their pocket, and can broadcast to the world - playful, silly, colourful, fun.
🎙 📕 A History of the Podcast
Do you know who invented podcasts? How it was popularised and how people like Steve Jobs and Ricky Gervais drove its early adoption? Through interviews with many of the main players over two decades this longish but succinct history of the format's meteoric rise is a fascinating read.
📌 🏞 Pinterest Launching Trends Insight Tool
The image scrapbooking site is opening up access to its consumer trends tool, noting that visual trends may be a better predictor of purchase behaviour than text-based ones. Pinterest is looking to play catch-up with platforms like Instagram in terms of ad revenue, and feels that its users indicate more clearly what they plan to purchase as they proactively use Pinterest to create mood boards. Access is yet to open up, but they have pulled together the emerging trends for 2020 that their internal insights suggest. Astronomy-inspired make-up anyone?
👍 🎬 The Best and Worst Movies of the 2010s
Lots of retrospective lists are making the rounds at the moment but this one from Vulture is worth a look, as is this Top 100 from my favourite film blog Film School Rejects. There are plenty of the top ones I've missed and I've spent almost half the decade as a Dad with more quiet evenings than most, so no excuse really. Adding them to my watch list as we speak.
🔫 💣 Smart Consumer Tech is the Next Wave of Terrifying Military Tech in Training
This fascinating and scary 20-minute documentary by the New York Times (not paywalled) looks at how the consumer tech that makes our iPhones and Teslas work - machine vision, machine learning, autonomy and the like - is going to change defence dramatically over the coming years.
They point out that historical step-changes in military tech have promised wars with less bloodshed, but have in fact multiplied the loss of life. Happy Friyay!
🙌 🌎 Need a Reminder This is the Best Time to Be Alive?
David McCandless' book Information is Beautiful made 'data visualisation' a thing when first published in 2001, particularly in digital media, design and marketing. The team behind IIB have created Beautiful News - a website showing how the world is improving, through their trademark attractively designed charts.
🎹 🤖 Suzanne Ciani, Synth Pioneer
Nothing to report here, I just happened upon this woman's fascinating career. A classically-trained composer, she met Ron Buchla who introduced her to his early modular synthesizer, the Buchla 200 (a competitor of the more famous Moog synths), in the 1960s. She was hooked, mastering this strange new sonic toolkit and began defining the sound of early synth music that started to appear in ad jingles and TV theme tunes.
In the 1970s she created some of the most recognisable 'audio logos', the kind of sonic branding that's commonplace today but a nascent concept at the time. Her most famous is the Coca Cola bottle pop 'n' pour.
I found out about her through BBC Radio 4's Woman's Hour programme (listen at 34:15) recently, where they offer a brief look into her career.
🐯 😱 'Instagram Face' is a real thing being requested in plastic surgery clinics
This terrifying piece from the New Yorker looks at how the kind of face that drives the most engagement and clicks on the social network has become a beauty ideal that people will mutilate themselves to achieve. "It was as if the algorithmic tendency to flatten everything into a composite of greatest hits had resulted in a beauty ideal that favored white women capable of manufacturing a look of rootless exoticism".
… and also, what about 'Blackfishing'?
following on from the above story, in which people are appropriating body traits from other races, there is a strange war taking place online, write Slate. One side is a number of Instagram influencers (both successful and aspiring) who are wearing makeup and clothes, sometimes even having surgery, to look more Afro-Carribean. The other side is a larger group publicly calling them out on tastelessly cherry-picking the sexiest elements of this identity. It's probably one of the more unexpected ways in which Silicon Valley-born algorithms are changing us.
🔗 Links of Interest
Twitter now lets users upload iOS Live photos as GIFs link
Popular project management tool Basecamp just opened up its product to personal users for free - link
A podcast on Discord has been live-streaming their hacking and harassment of Ring camera owners. The smart home and doorbell cameras are relatively easy to hack, with tools to do so becoming increasingly available on the web - link
You knew it already, but the extent to which virtual assistants - Alexa, Google Home et al - are listening might have been underestimated. That audio, from our most private spaces, is being listened to and analysed by armies of temp staff - link
💻 What's On My Desk This Week
🎙 Editing a brand podcast I'm doing whilst simultaneously following Documentally's guide to podcasting, which he is also publishing through Substack (like this newsletter)
📝 Writing a pitch for a new illustrated book all about apocalypses! Not particularly festive but hey…
💋 Writing about the success of beauty brand Glossier, and how they're the epitome of the 21st century brand, with a uniquely content/customer-first approach
🌲 And planning Christmas of course - specifically the last few gifts and what to cook for a veggie Christmas dinner (suggestions welcome!)
What to Drink This Weekend
I don't think I'd ever tried this drink until last night, and I will definitely be doing so again! Sadly, I'd run out of Luxardo Maraschino cherries (more on the importance of those in a later note) so enjoyed it without a garnish but still a fine drink with lovely flavours of oaky barrels. I think I prefer it to a classic Manhattan, it's lighter and brighter, especially as I use Punt e Mes vermouth which has an extra, spicy boldness.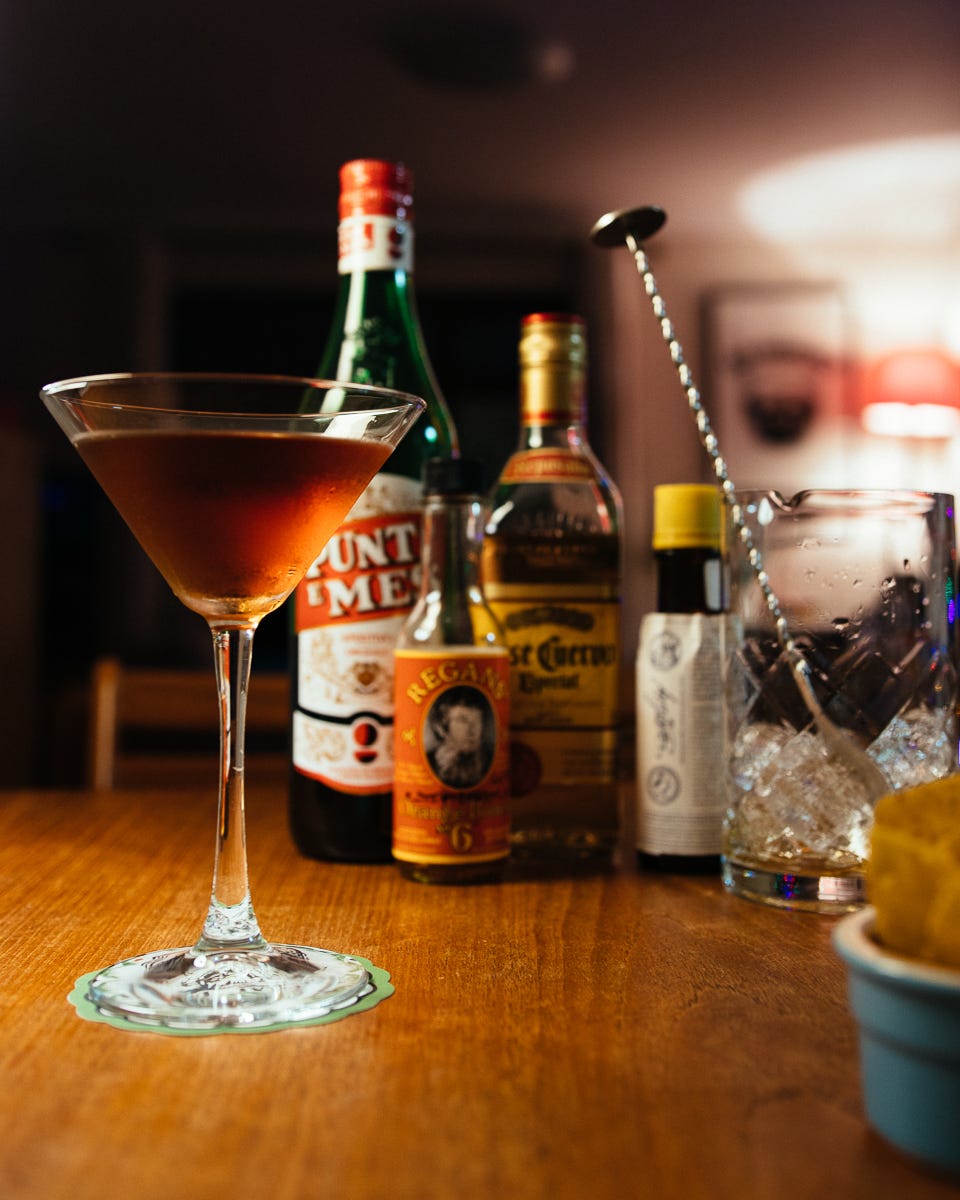 Añejo Manhattan
🥃 2 oz (50ml) añejo (aged) tequila
🍷 0.8 oz (20ml) sweet red vermouth e.g. Martini Rosso
🍊 1 dash orange bitters
🌿 1 dash Angostura bitters
Stir all ingredients in a mixing glass with ice. Fine strain into a chilled cocktail glass or coupé. Garnish with a Maraschino cherry.
Enjoy, and have a great weekend!
Will